---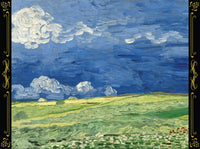 Artist:  Vincent van Gogh (1853-1890)
Painting:  Wheatfield Under Thunderclouds
Date:  1890
Museum Location:  Van Gogh Museum, Amsterdam, Netherlands
website:   www.vangoghmuseum.nl
Van Gogh made several painting excursions during visits to the landscape around Arles.
He made paintings of harvests, wheat fields and other rural landmarks of the area, including The Old Mill (1888); a good example of a picturesque structure bordering the wheat fields beyond.  
At various points, Van Gogh painted the view from his window – at The Hague, Antwerp, and Paris. These works culminated in The Wheat Field series, which depicted the view from his cells in the asylum at Saint-Rémy.
Many of the late paintings are sombre but essentially optimistic and, right up to the time of Van Gogh's death, reflect his desire to return to lucid mental health. Yet some of his final works reflect his deepening concerns. Writing in July 1890, from Auvers, Van Gogh said that he had become absorbed "in the immense plain against the hills, boundless as the sea, delicate yellow".
Van Gogh was captivated by the fields in May when the wheat was young and green. His Wheatfields at Auvers with White House shows a more subdued palette of yellows and blues, which creates a sense of idyllic harmony.
About 10 July 1890 Van Gogh wrote to Theo of "vast fields of wheat under troubled skies". Wheatfield with Crows shows the artist's state of mind in his final days; Hulsker describes the work as a "doom-filled painting with threatening skies and ill-omened crows". Its dark palette and heavy brushstrokes convey a sense of menace.