---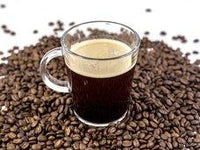 FLAVORED DESSERT Coffee:
French Vanilla:  Traditional, smooth and creamy vanilla.
Vanilla Hazelnut:  Smooth vanilla and toasted hazelnuts swirled together for a delicious sweet treat.
Vanilla Creme Brulee:   Imagine vanilla custard with caramelized brown sugar in each and every sip
Macadamia Nut:  Macadamia nuts right from Hawaii.
Chocolate Caramel Truffle:  sip on the tastes of dark chocolate and sweet caramel. Truly a dessert in a cup!
Pecan Cinnamon Ice Cream:   We've taken the wonderfully nutty flavor of pecans, sprinkled a bit of cinnamon on them and mixed them in a scoop of smooth vanilla ice cream to create what we believe is a flavored coffee that will remind you of a rich cone full of ice cream on a warm summer day
Jamaican Rum:  An island blend of coffee liqueur, caramel and vanilla.