---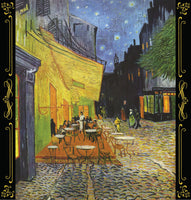 Artist:  Vincent Willem van Gogh (1853-1890)
Painting:  Cafe Terrace at Night
Date: 1888
Museum Location:   Kröller-Müller Museum, Otterlo, Netherlands
website:  www.krollermuller.nl
Café Terrace at Night is also known as The Cafe Terrace on the Place du Forum, and, when first exhibited in 1891, was entitled Coffeehouse, in the evening (Café, le soir).
Van Gogh painted Café Terrace at Night in Arles, France, in mid-September 1888. The painting is not signed, but described and mentioned by the artist in three letters.
Visitors to the site can stand at the northeastern corner of the Place du Forum, where the artist set up his easel. The site was refurbished in 1990 and 1991 to replicate van Gogh's painting.
He looked south towards the artificially lit terrace of the popular coffee house, as well as into the enforced darkness of the rue du Palais which led up to a building structure (to the left, not pictured) and, beyond this structure, the tower of a former church which is now Musée Lapidaire.