---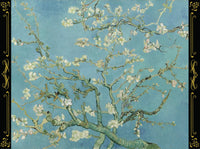 Artist:  Vincent Willem van Gogh (1853-1890)
Painting:  Almond Blossom
Periods:  Modern Art, Post-Impressionism
Date:  1890
Museum Location:  The Van Gogh Museum, Amsterdam, Netherlands, (Vincent van Gogh Foundation)
website:   www.vangoghmuseum.nl/en/, 
https://vangoghmuseum.nl/en/collection/s0176V1962?gclid=EAIaIQobChMIt-HZ7tGW3gIVlY2zCh0CtQYjEAAYASAAEgJzRPD_BwE
Almond Blossom is from a group of several paintings made in 1888 and 1890 by Vincent van Gogh in Arles and Saint-Rémy, southern France of blossoming almond trees. Flowering trees were special to van Gogh. They represented awakening and hope. He enjoyed them aesthetically and found joy in painting flowering trees.
Large blossom branches like this against a blue sky were one of Van Gogh's favourite subjects. Almond trees flower early in the spring making them a symbol of new life. Van Gogh borrowed the subject, the bold outlines and the positioning of the tree in the picture plane from Japanese printmaking.

The painting was a gift for his brother Theo and sister-in-law Jo, who had just had a baby son, Vincent Willem. In the letter announcing the new arrival, Theo wrote: 'As we told you, we'll name him after you, and I'm making the wish that he may be as determined and as courageous as you.' Unsurprisingly, it was this work that remained closest to the hearts of the Van Gogh family. Vincent Willem went on to found the Van Gogh Museum.