---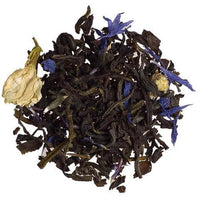 A special blend served at Buckingham Palace, flavorful with brightness and body. An exotic character with soft hints of Earl Grey and Jasmine. Superb for afternoon tea settings.
It is one of the most "gifted" tea, which speaks to the universal appeal of Buckingham Palace Tea.  
Many fans of Buckingham Palace also love the Queen Mary Tea.
Made with all natural flavorings. 
Origins, Ingredients and Taste Experience:
Country of Origin: Kenya China Sri Lanka India
Region: East of Rift Fujian Nuwara Eliya Assam
Shipping Port: Mombasa Fuzhou Colombo Calcutta
Grade: Blend of large leaf teas
Altitude: 6500 ft 1500 ft 6500 ft 1500 ft
Manufacture Type: CTC Green Tea Orthodox Orthodox
Cup Characteristics: Flavoury with medium body and delicate earl grey and jasmine notes
Infusion: Bright with touch of golden coppery colour

Information:
Every May the Queen holds a garden party at Buckingham Palace -A lovely English springtime tradition. The Queen invites between 3000 and 4000 guests. Regal cucumber and watercress sandwiches served on white bread, smoked Scottish salmon pate, delicately scented earl grey cakes, and most importantly: Tea, are served on this prestigious occasion. The invitees are exotic guests from the far flung reaches of the Empire.
The common thread is that they have made contribution to the British Commonwealth of nations. The guests rub shoulders with lords, earls, dukes, duchesses and ladies from the aristocratic British society.
At about 3:00 p.m. the Royal Family make their entrance -the Queen, Prince Philip, the Queen Mother, and perhaps even Prince Charles, Princess Anne and  Prince Andrew. You can seen the scene now -the Queen, Prince Philip and the Queen Mother -dressed in formal spring party clothing, mingling with the excited crowd; shaking hands, smiling, stopping briefly to chat with the guests, making eye contact and the royal nod of the head to acknowledge one's presence for those unable to personally meet the Royal Family.

The tea that is served is long time favorite and delicious Palace medley specially selected for this occasion. Intriguing hints of high-grown pure Ceylon Earl Grey blend effortlessly with the soft jasmine from Fujian Province. Couple this with malty Assam (from the estate of Borengajuli) flavory Dimbula Ceylon (from Hatton), brisk and golden cup East of Rift Kenya (from Kambaa and Kagwe) and you have one of the most flavorful teas to come from the British Isles.
Each cup is a cup of mystery - the flavors all come to the fore at separate times - one minute you taste the Earl Grey, the next second you can almost feel the soft floral notes of jasmine and finally you get the satisfying fullness of the Assam Ceylon and Kenya blend. Enjoy this tea and be a part of the annual tradition in the west gardens of Buckingham Palace.
Brewing Instructions:
Hot tea brewing method: Bring freshly drawn cold water to a rolling boil. Place 1 teaspoon of tea for each cup into the teapot. Pour the boiling water into the teapot. Cover and let steep for 3-7 minutes according to taste (the longer the steeping time the stronger the tea). Even though milk and a dash of sugar help enhance the flavor character on this tea, it is perfectly acceptable to consume this tea 'straight-up'.

Iced tea brewing method (to make 1 liter/quart): Place 6 teaspoons of tea into a teapot or heat resistant pitcher. Pour 1 1/4 cups of freshly boiled water over the tea. Steep for 5 minutes. Quarter fill a serving pitcher with cold water. Pour the tea into your serving pitcher straining the leaves. Add ice and top-up the pitcher with cold water. Garnish and sweeten to taste. [A rule of thumb when preparing fresh brewed iced tea is to double the strength of hot tea since it will be poured over ice and diluted with cold water]. Please note that this tea may tend to go cloudy or 'milky' when poured over ice; a perfectly normal characteristic of some high quality black teas.