---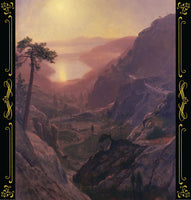 Artist: Albert Bierstadt
Painting title: View of Donner Lake, CA
Date: 1872 
Museum Location:  FAMSF
Albert Bierstadt (January 7, 1830 – February 18, 1902) was an American painter best known for his lavish, sweeping landscapes of the American West. To paint the scenes, Bierstadt joined several journeys of the Westward Expansion. Though not the first artist to record these sites, Bierstadt was the foremost painter of these scenes for the remainder of the 19th century.
Born in Prussia, Bierstadt was brought to the United States at the age of one by his parents. He later returned to study painting for several years in Düsseldorf. He became part of the Hudson River School in New York, an informal group of like-minded painters who started painting along the Hudson River. Their style was based on carefully detailed paintings with romantic, almost glowing lighting, sometimes called luminism. An important interpreter of the western landscape, Bierstadt, along with Thomas Moran, is also grouped with the Rocky Mountain School.
Visit the original painting if on display at:
Fine Arts Museums of San Francisco: FAMSF
Legion of Honor | Fine Arts Museums of San Francisco
de Young | Fine Arts Museums of San Francisco
The Fine Arts Museums of San Francisco, comprising the de Young Museum in Golden Gate Park and the Legion of Honor in Lincoln Park, is the largest public arts institution in the city of San Francisco.
Address:  50 Hagiwara Tea Garden Dr, San Francisco, CA 94118
websites:
https://legionofhonor.famsf.org